If you have ever wondered how to find your property lines, if so, there are multiple straightforward, effortless, and free ways to go about doing so. Nonetheless, you want to make sure that special attention is given to this process, as developing anything outside of your property such as trees, fences, landscaping or any other structure is a potential gateway for problems with your neighbours and city officials.
 The process of locating your property lines can be confusing for many, and discovering where one property begins and another ends is an important thing to consider. Fortunately, there are a wide arrangement of tools to give you the confidence needed to erase any concerns regarding property lines so that you can landscape, plant trees, or build that fence that you have always wanted.
 Before continuing, it is important to note that none of these procedures offer legal confirmation of property lines. Legal confirmation can only be achieved through hiring a Professional Land Surveyor to complete a property line survey for you.
1) Examine the RPR (Real Property Report)
 The first step when trying to figure out any property lines is to review the RPR; a drawing that most homeowners receive usually upon a purchase of their home that illustrates their property lines and measurements. If you do not have an RPR, you can always contact one of the Land Survey Companies in Calgary and they can prepare it for you.
2) Review Land Title Maps
 Online you can review property titles where boundaries and property lines are explained. It is important to note that many descriptions may include improvements on your property that may have changed with time such as decks and outbuildings.
3) Chat With Your Planning and Development Department
 Many local zoning departments keep record of your plot and reveal the property lines of your neighbourhood, revealing the boundaries for your home and any neighbouring properties. Information such as things particularly useful in disputes. Unfortunately, homes generally older than 100 years old will not have records with local zoning departments, thus more investigation is generally needed.
 Checking with your local municipality is always an easy and credible source of confirmation for property lines and boundaries when trying to decide where property begins and ends. Different sources such as websites, agencies, or phone numbers are all possible methods that can possibly provide this information for free or at a premium.
4) View Google Maps and GeoJet Map
Google maps and other map platforms will display property lines if you type in your address int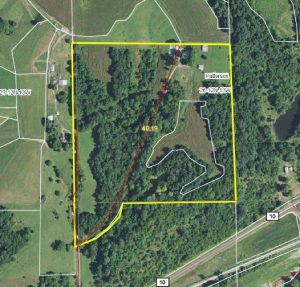 o their search bar and zoom up unto your property, although property lines may not be available for all locations.
Besides Google Maps, several services exist to provide property line information, of these GeoJet Map being one of them. It is important to remember that these are not totally accurate, however, they will serve as a guiding point to decide where property boundaries begin and end. The GeoJet App contains a survey editor where you can conduct and create you own survey, or you may load up several preloaded surveys that come at a premium.
5) Observe Physical Cues
 While checking for physical markers may not necessarily provide official confirmation of property lines, many cues such as sidewalks and streetlights can reveal where one property ends and another beings. Although not always true, sidewalks and streetlights may be built in alignment with property lines. This method is only recommended when a very general idea is needed such as where to put a trampoline or playground set, however, permanent additions such as extending the garage or building the fence require official confirmation to avoid legal risks.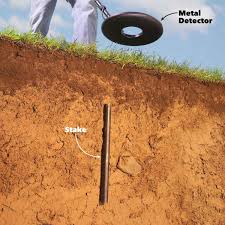 6) Fin
d Survey Pins
 Land Surveyors insert survey pins along boundaries when designating property lines. These property pins are usually two- three feet long and are iron bars. If you have a metal detector handy, discovering where survey pins are buried is another level of confirmation that can help. Its important to that survey pins are sometimes accidentally moved or removed during general construction like landscaping, fence building or other small excavation projects that happen throughout the lifetime of a property. Despite this, if a survey pin is moved it does not mean that your property line have changed. On the contrary, compare with the other survey pins you have found and decide which survey pins are accurate. In this manner, you can decide for yourself where your general property lines are.
Note: The steps above should give you a general idea of where your property lines might be, the only way to legally confirm where your property lines are is through a Professional Land Surveyor.
 Legally confirm Where Your Property Lines Are Located
After completing all the steps above, if you are still unable to find the information on your Real Property Report or land title, then a Professional Land Survey is always recommended. Moreover, Professional Land Surveyors are the only legal option to confirming where property lines are located. Any permanent addition to a home or building must require the completion of a Professional Land Survey.
 During the process, surveyors will map and mark the property lines with stakes. Accurately locating property boundaries is a sure and positive way to avoid encroachments into adjacent properties when selling a home. By following procedures for determining property lines, you can safely avoid crossing unto your neighbour's property and dodge the prospects of an angry neighbour or even a lawsuit.
 Moreover, when purchasing a new home, usually your mortgage lender will request an official survey to be done of your property as it can help uncover and prevent any issues before making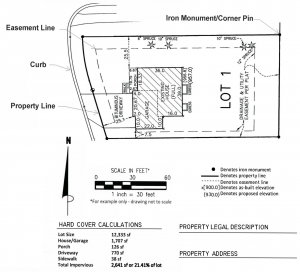 your final purchase. While a Professional Land Surveyor may have a cost attached to them, in some instances an official survey done before the purchase can reveal the lot size to be smaller than advertised, leading to a renegotiation in price or even rejecting the current offer.
 In the end, it is important to feel confident where property lines are located before you begin your project. Despite any visible fences or visual cues that represent property lines, many of these structures have been built in the wrong places. It is essential that property lines are confirmed, but more importantly, avoid any mistakes such as lawsuits. Something that may seem like an obvious answer can provide itself as a bigger problem below the surface. Always make sure to verify and check with multiple sources such as your RPR, zoning department, or a Professional Land Surveyor before building anything on your property boundaries.
Arc Surveys
We help you sleep better by providing Real Property Reports and Land Surveying solutions.