How to Become an Alberta Land Surveyor
A land surveyor's job is to direct and conduct legal surveys of boundaries, buildings, structures, and other features, whether on or below the surface of the earth or even in the air. They achieve this through a combination of specialized equipment and survey records, which allows them to determine boundaries and determine the accurate location of features on a project site. In Canada, this involves establishing the locations, limits, and boundaries for things like utility rights-of-way, roads and highways, well sites, mining claims, land subdivisions, houses or properties, and more. But why become a land surveyor in Alberta or even in Canada? Let's find out!
Why Become an Alberta Land Surveyor?
For starters, a career as a land surveyor could be for you if you like working with data, plans, charts, records, and documents. On top of that, a career as an Alberta land surveyor requires a high level of decision-making and takes a high degree of skill and knowledge. It's an ideal career for anyone looking for a change of pace and a challenge.
As far as career progression goes, a career as an Alberta land surveyor offers opportunities to eventually become a partner or even owner of your own firm. What's more, with 10 geomatics positions available for every geomatics engineering graduate in North America, there's certainly no shortage of jobs! On average, every geomatics graduate from the University of Calgary receives at least two job offers. So, how do you become an Alberta land surveyor?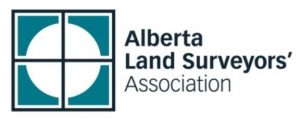 Becoming an Alberta Land Surveyor
In Canada, the minimum requirement for becoming a land surveyor is a college diploma or university degree in Geomatics Engineering from a Canadian college or university. A college diploma is a two year program.  With a college diploma, you'll need to sit for a series of Canadian Board of Examiners for Professional Surveyors (CBEPS) exams. How many exams you take depends on your academic background, up to a maximum of 13.  After passing your exams, you'll be awarded a CEBPS certificate, which serves as proof that you meet the basic educational requirements to become a land surveyor.
A university degree is a 5 year program.  With a university degree, if you specialize in surveying you are exempt from the CBEPS exams.  Some prefer to get their diploma and work in the field while challenging the CBEPS exams, this would appeal to more hands on types, whereas the more academic types might prefer to try for the university degree.
Next, it's time to find an Alberta land surveyor to article with for a minimum of two years. As part of the articling process, you'll need to complete project reports, professional and oral ALSA exams, pay the required fees, and take an oath before a judge of the Court of Appeal or Court of Queen's Bench. Congratulations! You're now able to work as a registered Alberta land surveyor.
Starting Your Career as an Alberta Land Surveyor
Arc Surveys is always on the lookout for young and ambitious talent willing to go the extra mile. Our goal is to go beyond the norm and increase the level of value we provide both to our clients and the team around us. If you enjoy working in a fast-paced, team-centered environment, passionate about serving others before yourself, and are interested in learning new things to further your career, we're interested in you!  Visit our careers page and submit your resume today or get in touch with us at 403-777-1272.