Underground Utility Surveys
A utility can be any installation connected to gas, electricity, heating, cable, or fiber optics that is connected to the city's water and sewer or private infrastructure system. Underground utility surveys deal with the mapping and descriptions of the underground servicing lines such as ducts, cables, fiber optics, pipes, and associated elements such as manholes, poles, catch basins, transformers, and hydrants.
The completion of utility surveys is essential to the initial planning and future construction development for many projects.
Architects, City Planners, and Developers alike all require a detailed land survey of any existing or planned underground utilities in an area and rely on land surveyors to complete an accurate survey for use in their design.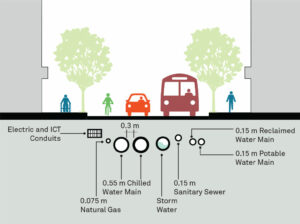 Underground Utility Surveys in Alberta
Underground utility surveys are an essential part of most construction projects. To ensure that your utility survey is performed to a high standard, you should choose a company that has a excellent reputation for carrying out underground utility surveys, whether it's fiber optics, cable lines, right-of-way surveys, or as-built surveys for existing utility services.
In Need of a Utility Survey?
At Arc Surveys, we pride ourselves on providing high-quality service as well as attention to detail. Need a Utility Survey for your next project? Connect with our team for a free quote today!